European Parlement and labelization
The European Union is mobilizing. Parliament opens debate and suggested discussing the labeling of alcoholic beverages. Certainly, it talks about calories, but also other risk behaviors, including pregnancy. Admittedly, the process does not seem very brave, but it must be tactful in these high places. It is a struggle of some MPEs, including Mr Younous Omarjee. To be continued... in the European Commission.
It needs courage to dare shake the lobbying of alcohol !
France has been a forerunner (in Europe) in terms of health messages on alcohol. It is a Reunionese which had been the instigator of 4 more amendments presented by our Senator Anne Marie Payet. She proposed to include a health warning caution when there was alcohol consumption by pregnant women.
The industry has had the last word, it is finally a logo that is supposed (since 2005) to inform the consumer. As highlighted Le Monde in its article of April 2, 2015, this pictogram is almost invisible (the smallest possible, monochrome), when present (as it is often absent from the imported products).
Our survey in Reunion Island, on more than 1,000 people, confirmed it. The symbol on the bottles is not seen by consumers… only at health professionals office and in the media. It would be informative enough, they say, if it was more visible and accompanied by prevention campaigns.
The Mildeca, addictions prevention authority in France, acknowledges in its government plan to fight against drugs and addictive behaviors 2013 - 2017 (Part 3 page 64). We should soon in France (before 2017) have a better consumer information ... accompanied by a genuine prevention policy.
Will we once again be those who are leading the way in Europe?
---
EUFASD.org : New website
The European FASD Alliance is getting more and more news from Europe. They decided to offer more news from press, reserach and prevention.
Don't forget to join the Too Young To Drink campain.
---
Worst... it's possible !
See at Dysney Land in Parist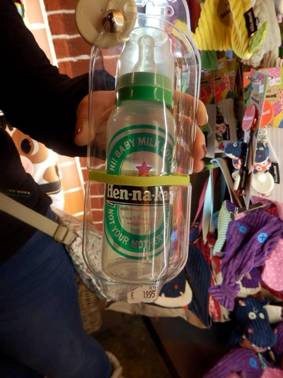 ---
Guidelines for the identification and management of substance use and substance use disorders in pregnancy (WHO 2014)
Download the WHO Guidelines in our Library