Delegation of the Indian Ocean
In association with NATRESA
Under the aegis of the Ministry of Health and Quality of Life

Alcohol and Pregnancy: An underestimated risk, disability preventable
Wednesday 17 and Thursday 18 November 2010 at the Gymnasium of prison training school, Beau Bassin
EVALUATION
Dr Kathia CADINOUCHE, GP in Reunion Island, graduate in Cognitive Behaviour Therapy, project manager for SAF France in Mauritius
Dr Thierry MAILLARD, GP in Reunion Island, a founding member of Réunisaf, coordinator in the Indian Ocean for SAF France and President of the SAF Océan Indien.
Annick MAILLOT LEU, host to Réunisaf, a Prevention Network of Fetal Alcohol Syndrome in Reunion Island
Reminder: two days of training in the continuity of a series of meetings and exchanges between officials from NATRESA and REUNISAF, firstly in 2006 and then of SAFFRANCE in 2009.
This association has led to the proposal of a training program for those involved in the prevention of risks of alcohol during pregnancy, to inform their teams, on the 17th and 18th of November 2010, entitled :
« Alcohol and Pregnancy: an underestimated risk,a preventable disability »
Number of Participants: This training was attended by 43 participants, including 20 representatives of the medical field and  23 of the psycho-social field.
The objectives of this seminar was related to the prevention of the leading cause of intellectual disability, by the knowledge of risks when exposed to alcohol during pregnancy. It therefore covers maternity, child and unborn children exposed.
It was, therefore to enable the early detection of maternal alcohol consumption during pregnancy and to detect as early as possible children exposed in utero.o.
1. Recognize the different clinical expressions of children exposed to alcohol during pregnancy
– What is FASD (All Troubles Caused by Alcoholization of the fetus)?
– Know how to diagnose a child with FAS (Fetal Alcohol Syndrome).
– Understand the neurobehavioral troubles of these exposed children.
2. Accompany children exposed to gestational alcoholization
 – Identify the course of a child diagnosed with FAS at birth
– What to do for a child exposed and apparently healthy at birth
– Know how to perform testing of a child having school failure which you suspect prenatal alcoholization as the main cause
3. Allow the detection of alcohol consumption of the mother
– Know the tools to « open dialogue » Know how to listen, evaluate consumption, estimate the risk for the pregnancy coming, to recognize the difficulties of the mother.
– Encourage the woman to stop her drinking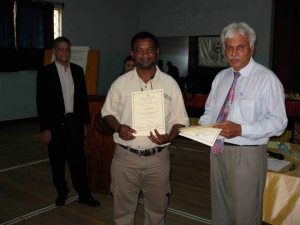 4. Know how to provide information without ambiguous abstinence to alcohol during pregnancy
– What are the effects of moderate alcohol consumption during pregnancy.
– Inform about the harmfulness of alcohol during pregnancy and recommend total abstinence on the recommendations of the French Society of Alcoholism
5. Alcohol-dependent women: ensuring support this multidisciplinary care in a health system
– Support to weaning by relying also on other actors in the prevention
– Understand the existing devices that can be mobilized in your area with the doctor as federator of this prevention.

During download : Introduction SAF 2010