June 8, 2006 – Pregnancy + alcohol: danger for the baby
The Fetal Alcohol Syndrome (FAS) is the leading cause of non-genetic handicap in the West. In France, it affects 1-2 children on a thousand. For the sake of sanitary prevention, a pictogram mandatory for expectant moms should shortly be placed on all bottles of alcohol.Firstly one in Europe, at the initiative of Senator Anne-Marie Payet from Reunion Island.
22 june 2006 – New measures of prevention
Fight against alcoholism
Regional group fight against alcoholism presented yesterday at the Regional Council new preventive measures. These relate to the reduction of alcohol in the rum flasks « rhum charrette », the introduction of breathalysers in nightclubs and awareness in schools. Other measures include the output of a bilingual DVD on September 9, on the subject of pregnancy and alcohol, and the use of pictograms on bottles of alcohol. These allow alcohol producers include logos on the bottles or phrases written on the dangers of drinking during pregnancy.
MAFATE : Prevention of fetal alcohol syndrome
For two days, Reunisaf travels Roche Plate and les Orangers to educate the young of Mafate the risks of alcohol during pregnancy. To them then to get the message to the adults.
No alcohol during pregnancy
This time, it's official: all packages of alcoholic beverages shall bear a logo to prevent pregnant women from the dangers of alcohol on their baby. A victory for Senator Anne-Marie Payet and network Réunisaf, working for ten years on this serious problem. Thanks to Reunion Island, the whole French territory is now affected by this law.
Fetal alcohol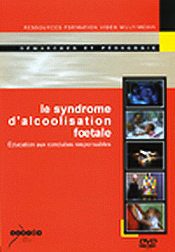 The DVD « Fetal Alcohol Syndrome: Education for responsible behavior », directed by the CRDP of Reunion Island, was awarded first prize in the category « health education » at the tenth International medical Film Festival 's in Amiens. This event took place on 13 and 14 September 2006 at the Faculty of Medicine and Pharmacy of Amiens.
On this occasion, 150 documents divided into 14 clusters quarreled favors of the juries. For the pole « health education », with 23 documents in competition, the first prize went to the recent multi-media production of the Regional Centre for Educational Documentation (CRDP)of Reunion Island Réunisaf associated with the network.
This document for many audiences warns and informs about an unfamiliar public health scourge: the Fetal Alcohol Syndrome. Any alcohol ingested by a pregnant woman is fully consumed by the fetus by simple diffusion across the placenta. Depending on the amount absorbed and as individuals, this syndrome can cause irreversible effects: growth retardation, malformations, behavioral disorders and mental retardation.
Preventing and informing about the serious dangers to the unborn child, is the goal of this punchy document, accurate and well documented.
DVD Fetal Alcohol Syndrome was awarded first prize in the Health Education Medical International Film Festival of Amiens (Filmed 2006)